We generally have a waiting list for all of our litters. We take the task of getting to know potential, future, Fourpines families, extremely seriously. We enjoy the process of getting to know you, your family and circumstances surrounding the future life of our puppies. Selecting a puppy should be a well thought out decision. We want our puppies to be cherished family members, to travel with you, sleep in bed with you and be your loving companions. Although we would like to supply you with the color and sex you want at the perfect time, we don't breed for quantity, so there may be a wait. I would say that you should be extremely concerned if you come across a breeder that has what ever puppy you are looking for at any given time. BIG RED FLAG!
We also try to match the puppy's personality with yours. It would not be in the best interest of a puppy, for the most active and outgoing of a litter to be placed with an older single woman. Nor would it be wise to place the most docile/laid back puppy of a litter with a busy family with children. -Thus we have an adoption form and we meet with you (in person and/or by phone) and get to know you. NO puppy will leave our home with out a relationship with us first. The puppies we spend years planning and preparing for will always be our #1 priority.
I also love interacting with our current and future Fourpines families via social media. Our Facebook page is Fourpines Cavaliers and our Instagram is kidsandcavs. You are welcome to follow along to get to know us and keep up with all the goings on around here. We are blessed to have many Fourpines families that currently have one of our puppies. There are quite a few that would be happy to visit with you for "references" about the adoption process.
All of our female cavaliers in whelp, deliver their babies in our Master Bedroom. Here are some pictures in the process of preparing for "birth day"
This is a custom homemade whelping box. The Fourpines dad Justin has made us 2. He's amazing. If life ever finds you or a friend in the market for a whelping box, I know a ton of breeders and animal fosters that use these garden boxes
And these are the scales we use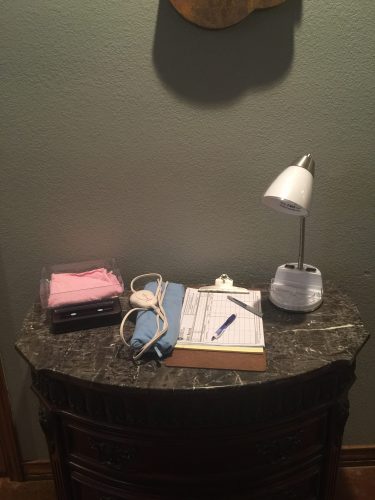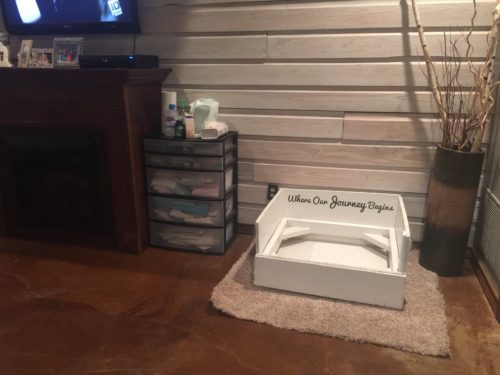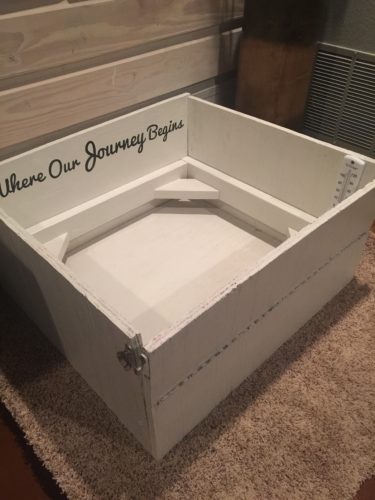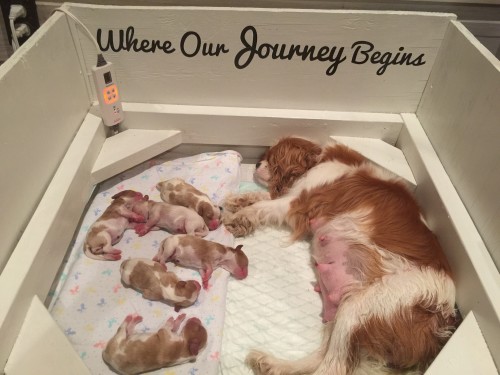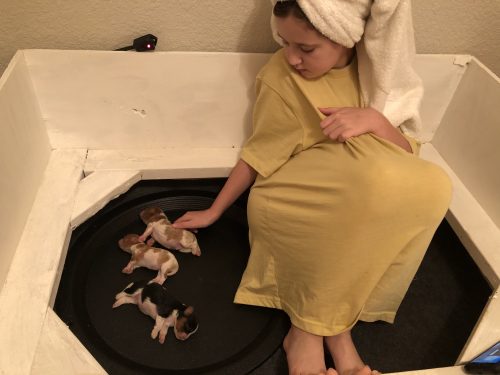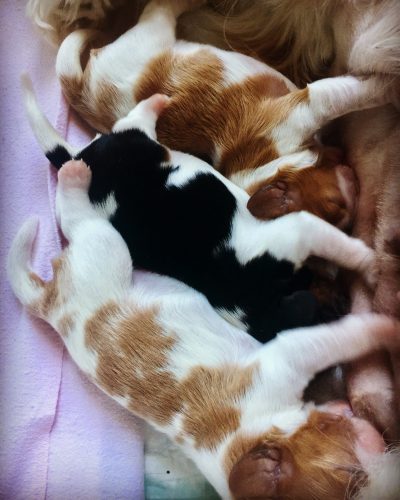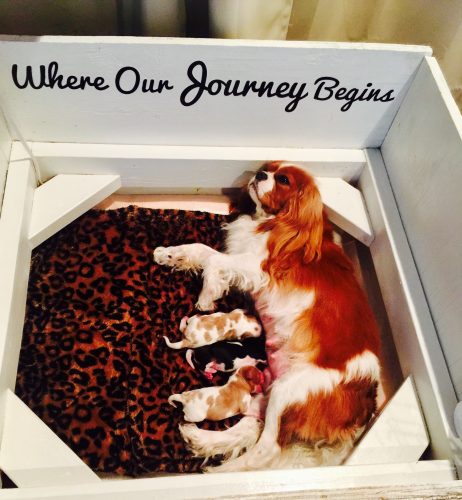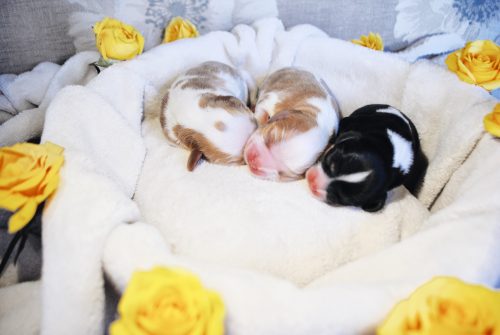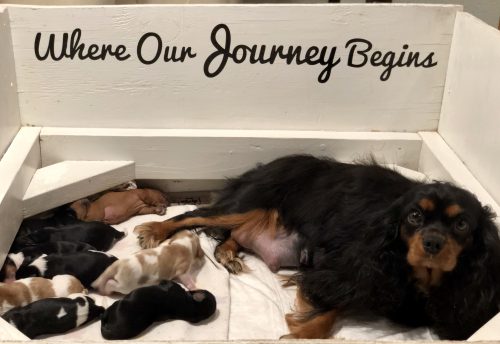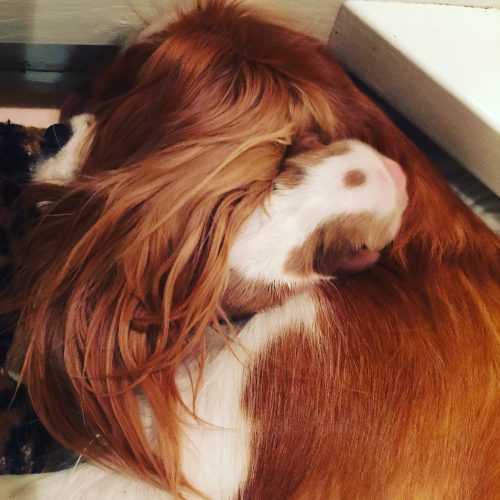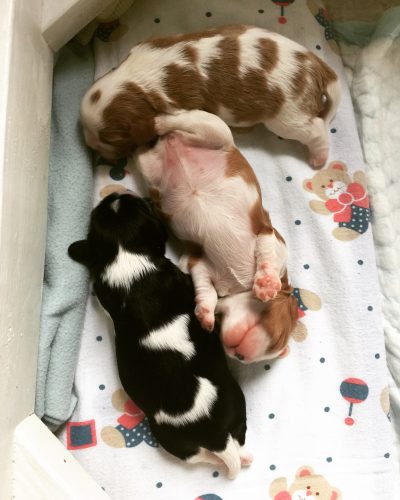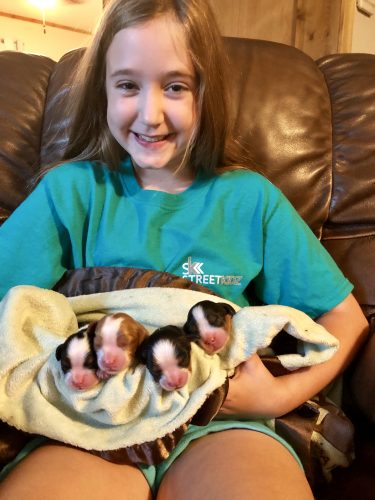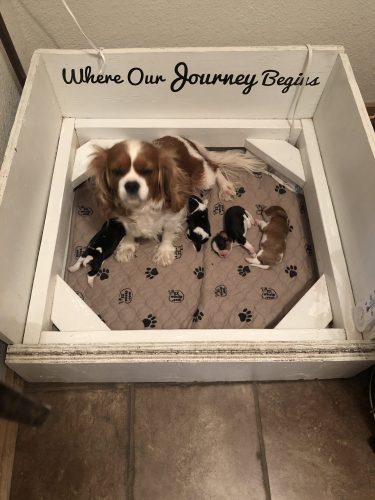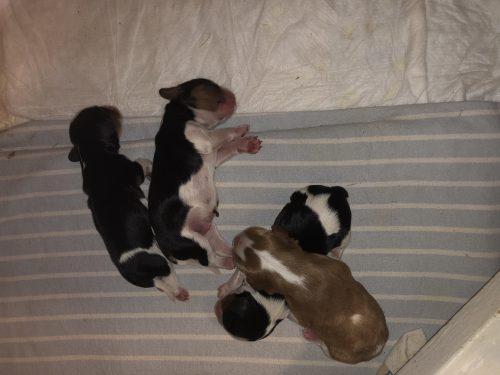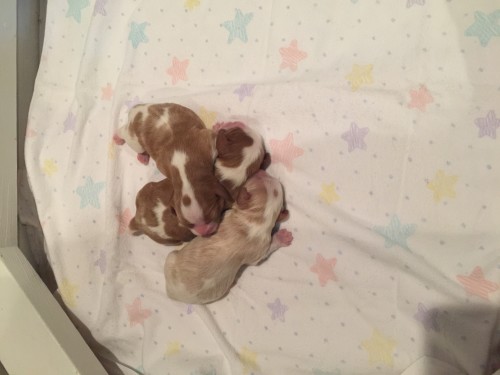 Every puppy from every litter, stays in the "nursery" with their mommy, in our Master Bedroom, until they are 3-4 weeks of age. We like their eyes and ears to be open and for them to be walking around good.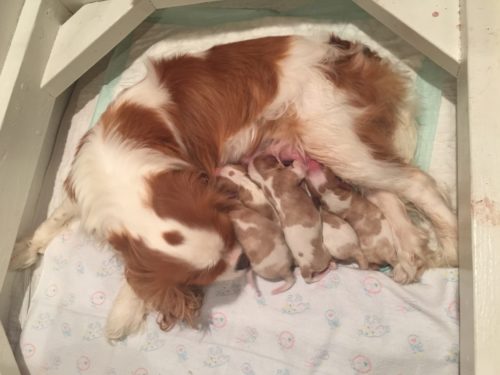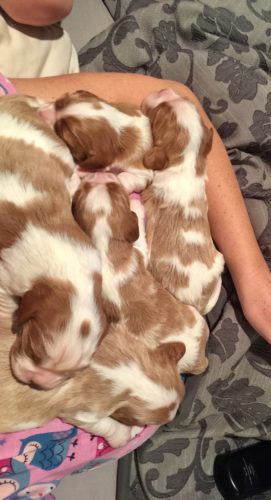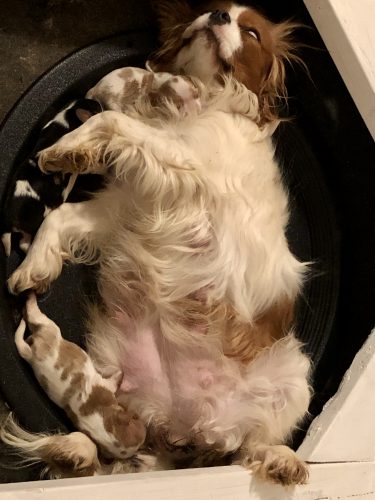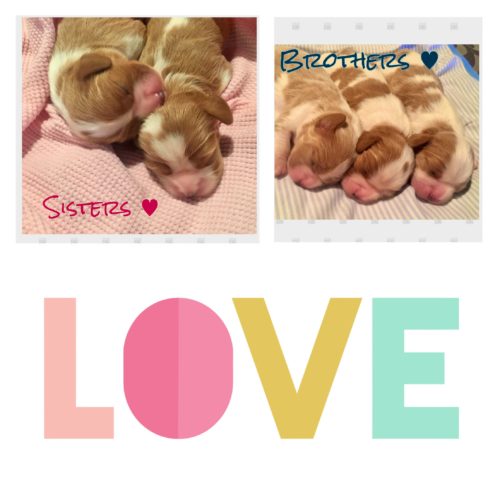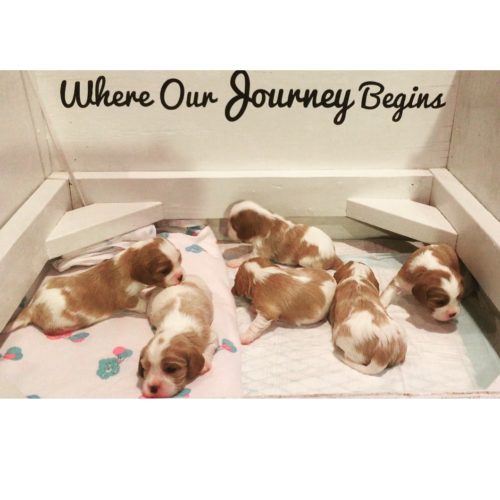 These puppies all have forever homes.
Email us or fill out our puppy questionnaire for more information about news, available puppies & upcoming litters.
Nearly every puppy born at Fourpines Cavaliers is born straight into my hands and heart 😉 I do like for our dams to do as much of the things that come natural to them as possible. Encouraging Mother Nature to kick in and take her course. We also begin ENS (early neurological stimulation) you can find out exactly what thats about and the protocols involved our on the Puppy Culture web-site https://shoppuppyculture.com/pages/puppy-culture-1
Here's a very informative link on this particular subject  http://www.thedogplace.org/reproduction/umbilical-cord_bja1012.asp
These next few pictures are of the 1st litter-  with our Therapy Girl Pippa and our GCH boy Bogart. There were 5 puppies born in that litter but only 2 survived. A little boy and an incredibly tiny baby girl. They came about 6 days sooner than expected due to the lose of a puppy in the womb. We named them Moses and Merium. Moses weighed 2.1 ounce and Merium 1.8 ounce at birth. Their chance of survival was EXTREMLY GRIM, but they did pull through and have gone on to live amazing lives, blessing their new families daily.
IT JUST GOES TO SHOW THE POWER OF THE WILL TO NOT ONLY SURVIVE, BUT TO THRIVE, IS PHENOMENAL!!
#nevergiveup #weareallhereforareason
We are proud to say that all of our dogs love their Nuvet Vitamin/Antioxidant chewable every single day. We contribute much of the great health & longevity of our dogs Directly to Nuvet Plus.


NuVet Plus for Canines and NuVet Plus for Felines provide the very best human-grade, natural ingredients available, and utilize the latest advances in medical, veterinary, and nutritional science.
NuVet products help put pets on the "path to perfect health" and support their development through every stage in life.
NuVet Plus is not available in stores or directly to the general public. You can only purchase NuVet Plus when you get a recommendation only from a pet professional.
Simply click this link to learn more or order Nuvet Plus Tabs for your pet.